Welcome to the Communication Theory Technical Committee
The Communication Theory Technical Committee (CTTC) of the IEEE Communications Society is primarily interested in fundamental problems associated with the transmission of information. Of special interest is the novel use of communication theory and/or information theory to solve problems in areas that include (but are not limited to) source and channel coding, storage, modulation, detection, estimation, synchronization, multiple access, interference mitigation, and networking. Communications through all media such as wireless media, wireline, fiber, infrared, optical, magnetic storage, etc. are of interest. Applications, such as wired/wireless/hybrid networks, multi-antenna communications, short range acoustical links, long-distance space communications, voice, data, image, and multimedia transmission, and storage channels are included.
Next Meeting: The TC meeting at Globecom 2022 will be held virtually on Thursday, November 17, 2022, 11am EST. The zoom meeting link is given below:
https://zoom.us/j/93467940060?pwd=WGVsbm9tZUZZWGowM3Z2NExQQ2xCdz09
The pass code can be found in the official email announcement.
---
Award Announcement: Congratulations to Jia Ye for winning the first Andrea Goldsmith Young Scholars
The CTTC Awards Committee has decided to grant the 2022 Andrea Goldsmith Young Scholars Award award to Jia Ye, due to her thorough and extensive contributions in the multiple areas within communication  theory, such as reconfigurable intelligent surfaces (RIS) and non-terrestrial communications. She has exhibited high productivity, created an impressive publication record during her PhD studies, demonstrated innovativeness through patents, and received multiple accolades.
Jia Ye has been pursuing her Ph.D. studies at KAUST, Saudi Arabia, since 2020, under the supervision of Abla Kammoun and Mohamed-Slim Alouini.
---
Announcement: Congratulations to the success of 2022 IEEE Communication Theory Workshop (CTW 2022) in Marbella, Spain. The CTW 2023 will be held July 2–5, in Hualien, Taiwan. Further information will be posted soon!
---
Latest Event: The IEEE Communication Theory Technical Committee (CTTC) invites you to the "2+1" online event
Title:
OTFS for Next-generation Wireless Communications
Date/Time:
Nov. 13, 2021, 17:00 – 20:30 AEDT (GMT + 11)
To attend the event, register at the following link:
https://unsw.zoom.us/j/87975847840
Question Collection Link before the seminar
For anyone who is not convenient to fill the above form, they can send their questions directly to Shuangyang at shuangyang.li@unsw.edu.au.
Detailed Agenda (time in AEDT)
17:00-17:05
Welcome Speech
17:05-18:05
Invited Talk I on OTFS by Ronny Hadani
Presentation Slides
18:05-19:05
Invited Talk II on OTFS by Emanuele Viterbo
Presentation Slides
19:05-20:30
Panel Discussions and Questions (Including the ones collected already)
Ronny Hadani received the Ph.D. degree in Pure Mathematics from Tel-Aviv University. His expertise is in representation theory and harmonic analysis, with applications to signal processing. He is the mathematical visionary who, together with CEO Shlomo Rakib, created Cohere's ground-breaking Orthogonal Time Frequency and Space (OTFS™) wireless modulation scheme and founded the company. He leads Cohere's research into the capabilities of OTFS and other advanced wireless technologies and how they can enable the next generation of wireless services. In addition to being Cohere's Chief Scientific Officer, Ronny continues to serve as an associate professor of mathematics at the University of Texas at Austin, a position he held prior to co-founding Cohere.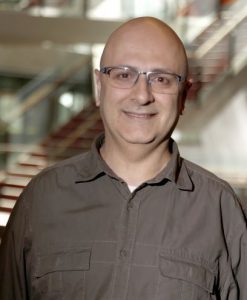 Emanuele Viterbo received the Ph.D. degree in electrical engineering from the Politecnico di Torino, Torino, Italy, in 1995. He is currently a Professor with the ECSE Department and the Associate Dean of graduate research with Monash University, Melbourne, Australia. From 1995 to1997, he held a Post-Doctoral position at the Dipartimento di Elettronica, Politecnico di Torino. From 1997 to 1998, he was a Post-Doctoral Research Fellow of the Information Sciences Research Center, AT&T Research, Florham Park, NJ, USA. From 1998 to 2005, he was an Assistant Professor and then Associate Professor with the Dipartimento di Elettronica, Politecnico di Torino. From 2006 to 2009, he was a Full Professor with the DEIS, University of Calabria, Italy. He has been an ISI highly-cited researcher since 2009. His main research interests include in lattice codes for the Gaussian and fading channels, algebraic coding theory, algebraic space-time coding, digital terrestrial television broadcasting, digital magnetic recording, and irregular sampling. He is an Associate Editor of IEEE Transactions on Information Theory. He is also the Guest Editor of IEEE Journal of Selected Topics in Signal Processing with the Special Issue on Managing Complexity in Multiuser MIMO Systems.
---
---